When people ask us what they should put in their camera bag when starting out as a new or experienced photographer, we offer them a few pieces of advice about the filmmaking gear you need.
At Tread Productions, we recommend having at least two-3 cameras with an assortment of lenses.  1) your favorite camera of course, 2) your reliable performing backup camera, 3) a good reliable video camera/recorder with 4, 6, 8, 10, 12K resolution, 4) maybe a GoPro Hero 11, and 5) your best flying drone for some aerial and action shots.
Another critical piece of gear you need is a good tripod, because they help you produce sharper images when shooting.  Tip: make sure you have several extra batteries w/chargers on hand, and don't forget to pack plenty of memory cards to save everything captured during your shooting schedule. 
What Is Filmmaking Gear?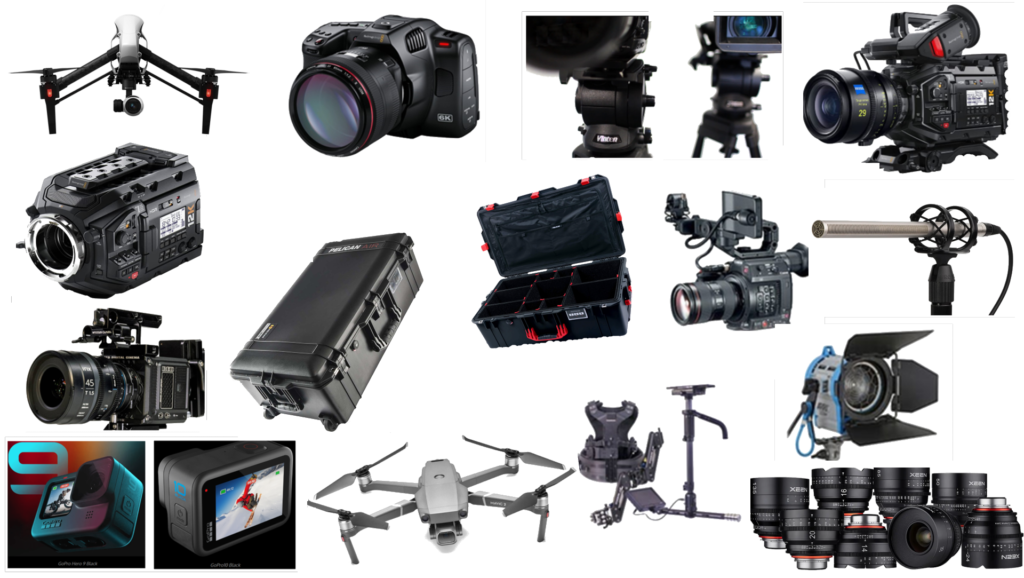 Now that's a silly question, isn't it?  Filmmaking gear is the tools that you as a photographer, filmmaker, or full-scale professional cinematographer need to create your photos, and film/video productions. The word "gear" however, can be used in a couple different ways:
It can refer to an individual tool such as camera, lens, or tripod.
Gear can also be considered as all the equipment that is necessary for capturing your photos and video filmmaking content.
The following things are just a few items that would typically be considered filmmaking gear: cameras, lights, sound equipment, microphones, tripods, and any other types of stabilization devices/equipment you may need for your photographing and filming purposes.
We recommend that you prepare for every job accordingly, so pack all the gear that is needed to capture every moment, special angle, action shots, aerial footage planned for the special occasion, commercial productions, interviews, biographies or live concerts and events you plan to capture.
Plan your shots with a checklist before hand to ensure that nothing gets missed, and pack ready to go with the kitchen sink gear arsenal of lenses to shoot every shot imaginal like wide-angle shots, close-ups, and telephoto captured moments.
So What's In The Camera Bag?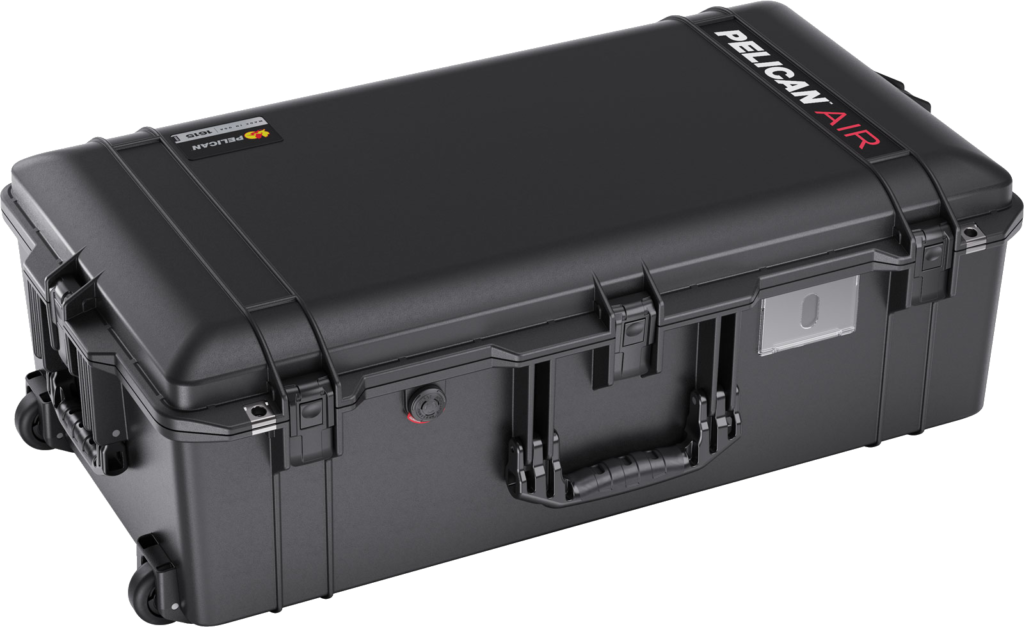 Tread Productions camera arsenal has a full-range kit in-house available to choose from, aside from having the ability to hire-in anything we may need or don't currently have available.  So, every shoot is different, but the camera bag will always include several cameras at the minimum (one a DSLR, and at least one smaller point-and-shoot), several different lens attachments for any type of shot needed, as well as multiple filters which are useful when capturing footage or taking photos inside or outside during sunny, cloudy days, at night and worse.  In addition, don't forget to pack a solid performing drone to capture the aerial shots needed no matter where your project production location may be.
We always try to plan for anything for any project shoot, to ensure we have the confidence of knowing everything should go as planned by being well-prepared beforehand.
As we all know, there are many different types of cameras out there on the market and it can be difficult to figure out which one is best suited for your needs.
So, it doesn't matter if you're an amateur photographer or a seasoned pro cinematographer… there's always something new in gear or to learn about how to capture great photography and footage.  Here are a few options to consider for your camera bag:
RED Komodo 6K Digital Cinema Camera System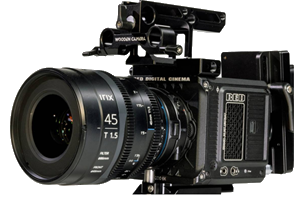 Panasonic Lumix S1H 4/6K Cinema Camera
Sony A7S 4K Cinema Camera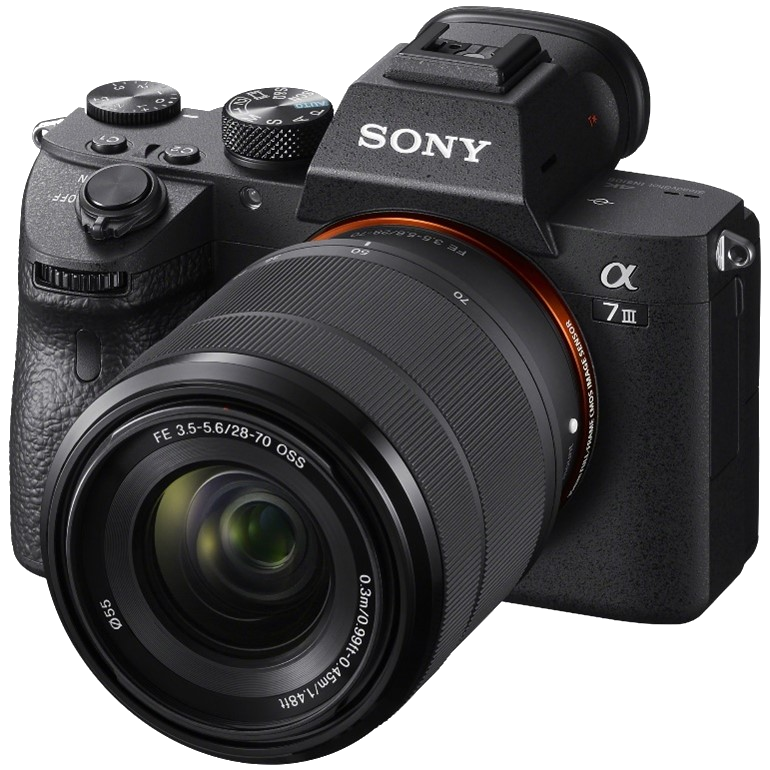 Atomos Shogun 7 (4K ProRes Recorder)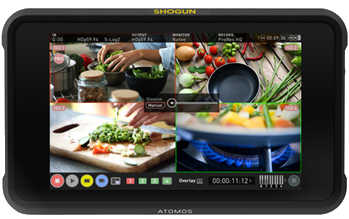 UAS (DRONE) Options
The DJI Inspire 1, 4K dual-operator quadcopter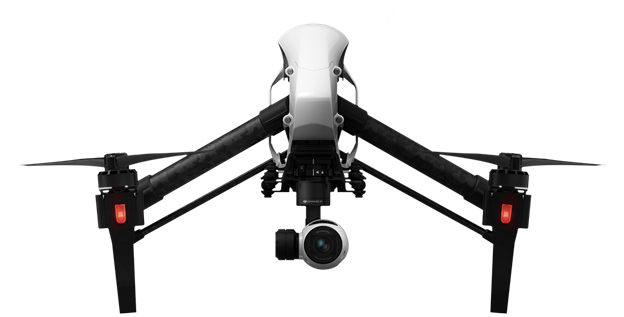 DJI Mavic 2 Pro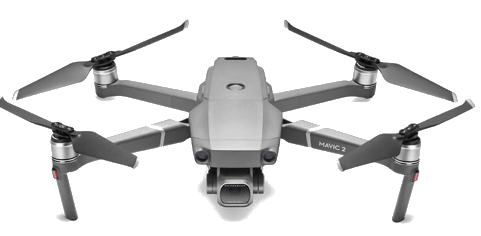 GoPro Hero 9 & 10 Black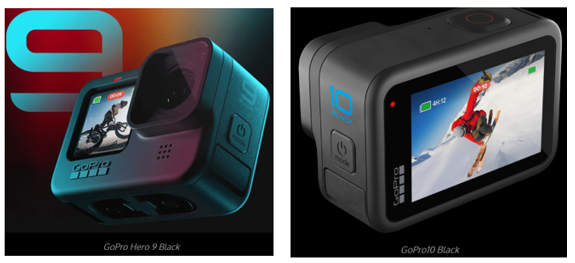 1. Video Cameras
Every camera gear bag needs a good reliable video camera that records moving images onto digital storage media. Video cameras are used mostly in filming and video production, but also in other industrial applications such as scientific research, weather forecasting, etc.
Today some of the best cameras use CMOS sensors to save space when shooting 4K resolution videos at 60fps, and some newer models able to shoot at 120fps.
But even some older models like Sony's RX100 II or Canon's EOS 70D have full HD 1080p capabilities for capturing high-quality videos without sacrificing too much in size.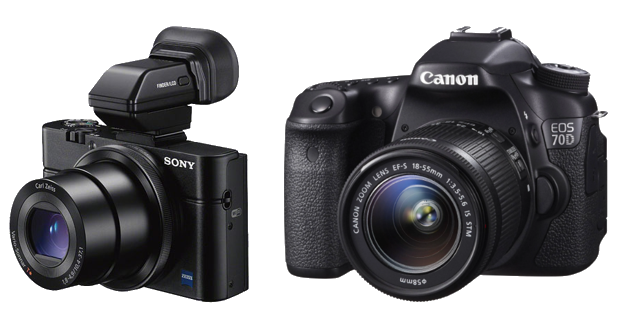 Choosing the right kind of video camera to purchase can be very difficult if you don't know what to look for in a model so seek help from a professional and good advice before buying.
You'll be able to better determine which ones are best suited for your needs by having this information available to help narrow down your camera options.
2. Tripods
Having a good Tripod is an essential part of any photographer's gear bag.  They provide stability and support for your camera, so you can capture crisp and clear shots with much more ease.
There are many different types of tripods available on the market, from lightweight models (aluminum) to heavy-duty carbon fiber versions.  Many types are also pretty cheap and easy to use, so if you haven't already invested in purchasing one it's recommended. 
Your gear bags of course can include more than tripods like other items such as a wide range of cranes, jibs, stabilizers, monopods, light stands, booms, and tripod heads from sources: Vinten, Avenger, Kessler Crane, Zacuto, and others.  It's up to you what you may need.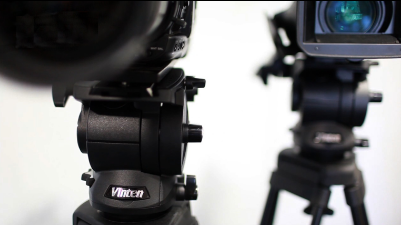 3. Lights
Every photographer and cinematographer's gear bag must have good lighting for your subject's face whether indoors or outside at nighttime to optimize the best lighting options available.
Have you ever wondered how the photographers get those perfect shots? Well, they use a special kind of light called "camera light."
Camera lights are usually used in studios to provide the best lighting for portraits. However, today having good lighting in any condition or location is imperative for producing good shots.
Just like cameras come in all shapes and sizes so does camera lighting.  It's recommended that you invest in some good lighting equipment to add to your gear bag.  But, like everything else on the market, shop around and get what will serve your needs and budget.  Here are two durable and portable options to consideration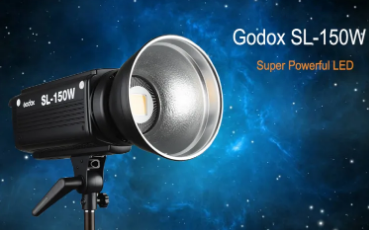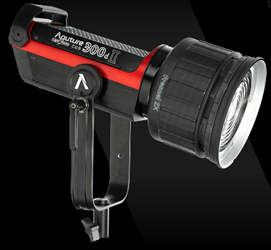 4. Shotgun Microphones
Microphones are a crucial part of any cinematographers and audio engineer's arsenal. They help to capture sound waves and turn them into a crisp audible signal.
The shotgun microphone is one type of mic that has been gaining popularity in recent years, due to its versatility and precision.
Shotgun microphones should be a critical piece of gear to add to your bag of equipment for capturing your video/photography productions sound and can be used for a variety of purposes but are mostly used in TV and film productions.
These mics focus on one sound source and reject other sounds, which makes it possible to easily record voiceover narration or dialogue without the need for extensive post-production work.
Shotgun microphones allow you to capture sound effects that would otherwise be difficult to locate with an ordinary omnidirectional microphone like when a car passes by or the wind blowing through trees.
Shotgun mics are also used in recording, video production, and live performances. As a result, shotgun mics have become an essential part of any film crew or sound engineer's kit due to their versatility.
The experts at Tread Productions say that shotgun mics are a great option for recording audio due to their directional microphones that are easily mounted onto your camera, stand, or boom arm when needed.
If your current gear bag is missing one… there is a wide variety of different mics on the market, so, make sure you buy one that will suit your needs.  Here are just a few of some of the best shotgun mics out there for filmmaking.
Rode NTG-3 / 3B Shotgun Microphone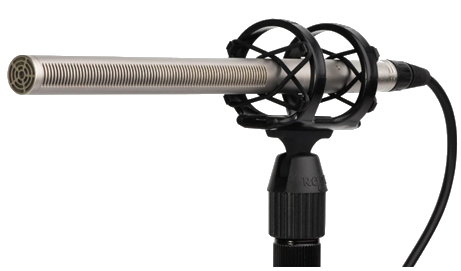 Audio Technica AT897 Mic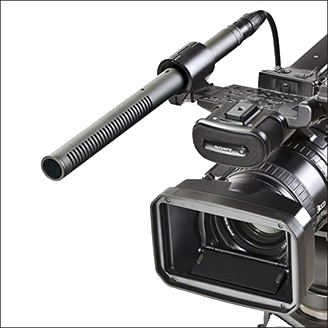 Shure VP83F LensHopper Shotgun Microphone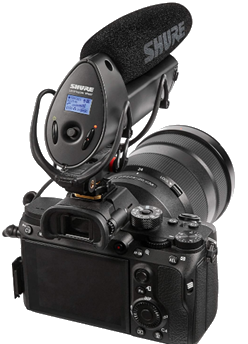 5. Boom Poles
For those who don't know… boom poles might sound like something you use to go fishing with, but they are actually one of the most important pieces of equipment used by camera crews today. The boom pole is used to hold up the microphone or other equipment that needs an elevated position when used.
A common misconception today is that the boom pole is only used by video crews for capturing aerial footage from airplanes. The truth is, however, they're also an essential tool used in any film production when your sound quality is important.  It's also used as a stabilizer for certain shots.
However, there are many different ways you can use the boom pole for!
One, when shooting interviews in low light conditions you don't have to worry about lighting your subject because they can be lit by the lights from behind them.  This fact makes interviewing people easier for everyone involved and will produce better quality footage overall!
Two, the use of the boom pole is the most common way to capture sound in film and television productions. The boom operator uses the pole to keep an audio recorder close to the action and usually out of frame. 
Three, most poles are telescopic, so they can be shortened or extended as needed for filming situations, and a typical length is around seven feet, but there are longer models that can extend up to over twenty feet long.
Here are a few of the top boom pole microphone brands on the market today:
Røde Boom Pole Pro

Ambient Recording QS Premium

Professional Sound Corporation X-Large Elite

K-Tek KlassicPro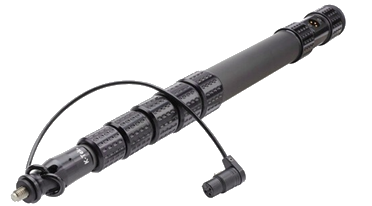 Additional Pole Brands:
König & Meyer
Cavision
LTM Lighting
LyxPro
On-Stage
6. Shock Mounts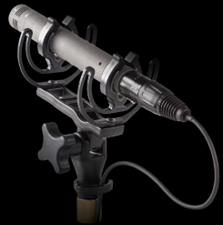 Shock mounts for sound are one of those little pieces of gear that most people don't know about until they need it; but for those who know what they are for, they say "once you use a shock mount, it's hard to imagine not using them all the time".
The shock mount device helps reduce noise and vibrations that are otherwise picked up by the microphone and helps lead you to producing a cleaner recording sound.
They're easy enough to install, but there are some things worth looking out for before making your purchase decision.  Shock mounts can also be used for other audio equipment like keyboards and even on guitars. 
So now that you know just a bit about the importance and use of microphone shock mounts, do a little more research to ensure you know which shock mount will work best for you before buying. 
Here are a couple good mounts to review:
ASM1 Airo – An affordable mount that grips the mic firmly, making it an ideal choice for use in the field.
Rycote USM – One of the best shock mounts for large diaphragm studio microphones.
Rycote INV-7: A great shock mount for small diaphragm pencil studio microphones.
Rode Blimp: Nice shock mount for shotgun boom microphones.
7. Wireless Microphones
Having a good wireless microphone is a great addition to any gear bag.  Wireless microphones are great for using for speeches, presentations, and interviews.
The best part about these mics is that they will allow you to move around freely while still being able to communicate with others without the fear of getting entangled in wires.
There are many different types of wireless microphones available on the market for purchase like everything else we all buy, but they all work basically the same by sending an analog audio signal from the microphone to a receiver via radio frequency waves. 
Wireless microphones can range in price anywhere from $40-$2000 depending on what features you may need or want. However, for most performances, it is best if they have an omnidirectional mic that can pick up sound from all directions so that your audience won't miss anything in your video productions or recordings.
It's up to you on what the best microphone you need in your camera bag. It is recommended that you shop around for what is needed but here are a few mics for consideration.
Sennheiser AVX Digital Wireless Microphone System – ME2 Lavalier Set
Rode RodeLink FM Digital Wireless Filmmaker System
Audio-Technica System 10 ATW-1701/L Portable Camera Mount Wireless Lavalier System
8. Video/Photo Camera & Gear Bags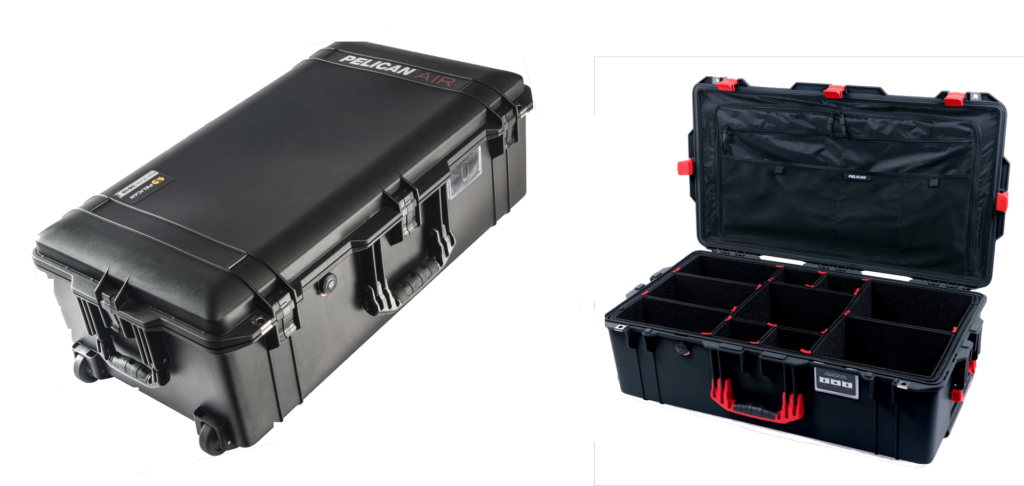 Looking to protect and transport your valuable video-camera rig & gear?
Dedicated camera bags and hard cases can be expensive, but they're a worthwhile investment for protecting your precious gear while travelling from locations.
Choosing the right one for your needs can be difficult and overwhelming as there are so many options available on the market.
A well-made camera & gear bag should offer protection from both physical damages like scratches and spills, as well as providing protection from potential digital threats by hackers who might want to steal your memory cards.
When choosing a camera and gear bag, it's important for you to consider which features are most important for you based on how much gear you carry around when traveling and shooting photos and videos.
It's not recommended to buy cheap bags or case from unknown brands that may be tempting based on costs, because they usually have inferior quality, and most don't last long.
Here are a few suggestions to protect and transport your valuable video-camera rigs & gear:
Porta Brace DVO-2 Organizer Case
CineBags CB33 Skinny Jimmy
Sachtler Dr. Bag – 3
Tenba Cineluxe Roller 21
Arco V55G Roller Case
Peak Design Everyday Sling
WANDRD Prvke Backpack
HPRC 2550W with Second Skin
Vanguard Supreme 40F
Peli / Pelican Protector 1510
Vanguard Supreme 53D
Manfrotto ProLight Reloader Tough-55 HighLid
Tread Productions hopes you enjoyed this post to help you in making good choices and decisions in having the best gear, cameras, and accessories for all your shooting needs.
Here are some of the types of gear we have in our video & camera bags and production arsenal.
Let's look at some of our recommendations in more detail and estimated costs associated.
Sony A7s III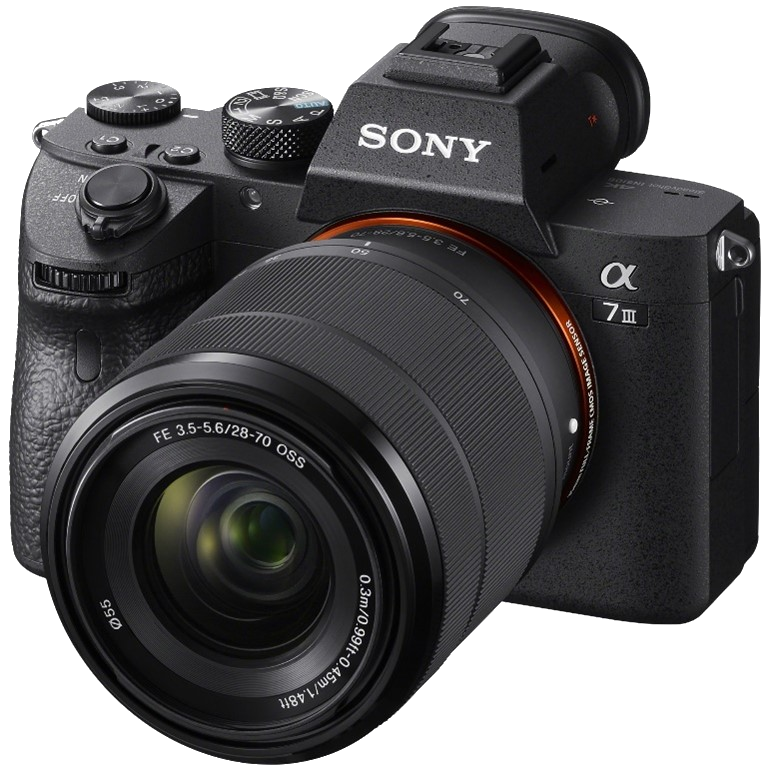 The Sony A7s III is one of the latest camera release from Sony, and it's a good performer. It has amazing specs for video recording with 4K resolution at 60fps or 1080p at 120 fps. This camera also features 5-axis in-body image stabilization (IBIS) to help reduce motion blur, which is great for any filming action shot.
The camera can shoot up to 12 frames per second, but only if you're using an electronic shutter mode.
The Sony A7s III is a very capable camera, and is a first choice for many looking to shoot in low light.
It has a 12.2MP sensor with ISO ranging from 100-25600, with 4K video recording at 60 frames per second (fps), 1080p shooting at 120 fps, and Full HD shooting up to 240 fps.
The camera features an updated BIONZ X processor that helps give images more detail while reducing noise levels significantly.
Additionally, the A7sIII features Dual SD card slots as well as Bluetooth connectivity for remote control of shots when you need two hands-free!  Sony's A7S III price starts at about $3,500.
DJI RS2

The DJI RS2 is a new drone released by DJI and a great choice to have in your gear bag. It is one of the newest models in the line of Phantom drones, and it features an upgraded camera and extended flight time.
The drone remote control has been redesigned with dual joysticks for more intuitive control.
The DJI RS2 is an upgrade to the popular Phantom series of drones.
It's designed with a focus on safety, reliability, and quality.
As a result, this drone is perfect choice for any type of recreational use including filming or photography, and for anyone who wants to get started shooting aerial photography.
The DJI RS2 is an amazing drone camera with lot of features like having a double-decker gimbal, 4K video recording capability, and can fly for up to 25 minutes on one charge. The RS2 combo price starts around $1,000.
Canon EOS C70
The Canon EOS C70 is a camera that takes superior quality photos and video and has an autofocus system designed for convenience when taking photos.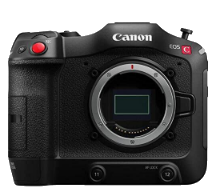 It is said that a good camera is the most important tool for any filmmaker or photographer. The Canon EOS C70 offers a range of features and performance to help you capture professional video with ease.
Canon EOS C70 RF Cinema Camera, S35 DGO Sensor, 16+ Stops Dynamic Range, RAW Internal Recording, ND Filters, EF-Lens Compatible with EF-EOS R 0.71x Adapter, Eye Face Detection Subject Tracking AFCanon Super 35mm Dual Gain Output (DGO) Sensor, 16+ stops of Total Dynamic Range
DIG!C DV7 Image Processor
Canon Log 2 and 3, PQ, and HLG Recording
EF Lens Compatibility with Mount Adapter EF-EOS R 0.71x
The camera is a great option for those who want to invest in their future and do more with their filmmaking career.  The Canon EOS C70 base price will set you back a bit $5,500.
Blackmagic URSA Mini Pro 12K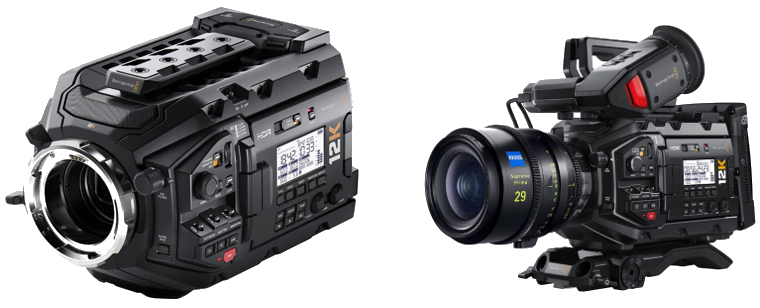 The Blackmagic Ursa Mini Pro 12k is a great performing camera that offers an incredible number of features for the price. It's a top choice for filmmakers who want to shoot professional-quality footage without breaking the bank for about $6,400.
The camera has a lot of features, but the two main ones are its ability to shoot in 4K resolution and its size – large enough to capture all your shots, but still small enough to take it with you anywhere!
The camera shoots RAW video with 4K resolution and up to 60 FPS, the camera's low light performance is excellent, and it has an ISO range of 100-12,800.
The URSA Mini can shoot in HDR mode as well and lets you capture the best possible exposure for any given scene or shot.
The Blackmagic URSA Mini is a perfect choice for indie filmmakers who want more control over their image quality without having to invest in additional expensive equipment like lenses or lighting rigs.
The camera is a beast, and its performance delivers. Weighing in at just over 10 lbs, the camera produces stunning 4k footage with an interchangeable lens mount and has a full ability to shoot unlimited raw photos.
RED Komodo 6K Digital Cinema Camera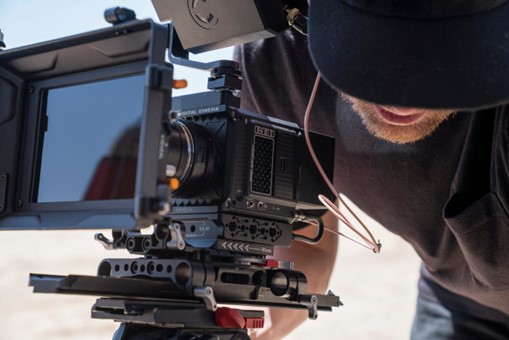 KOMODO® 6K has the latest breakthrough product in RED's long line of innovative image capture technology. The camera is one of the newest added into the RED lineup that is compact and a highly powerful cinema camera. It features RED's cinema grade image quality, color science and sensor technology into a easy portable form so users can take it anywhere and in any shooting scenario.
The new sensors in RED KOMODO has a 6K S35 global shutter sensor that breaks new technical ground eliminating the need to sacrifice dynamic range and meets the RED standards for unmatched imagery without compromising performance. KOMODO 6K features a built-in Canon RF mount allowing users flexibility to use with many different lens adapters, such as the Canon EF, PL and Leica M mount. The KOMODO also sports a DC IN power port and can also be powered using two Canon BP style batteries.  Bottom line… the KOMODO 6K is a great choice for anyone's gear bag check it out, but its base price is over $6,000.
Blackmagic Design Pocket Cinema Camera 6K Pro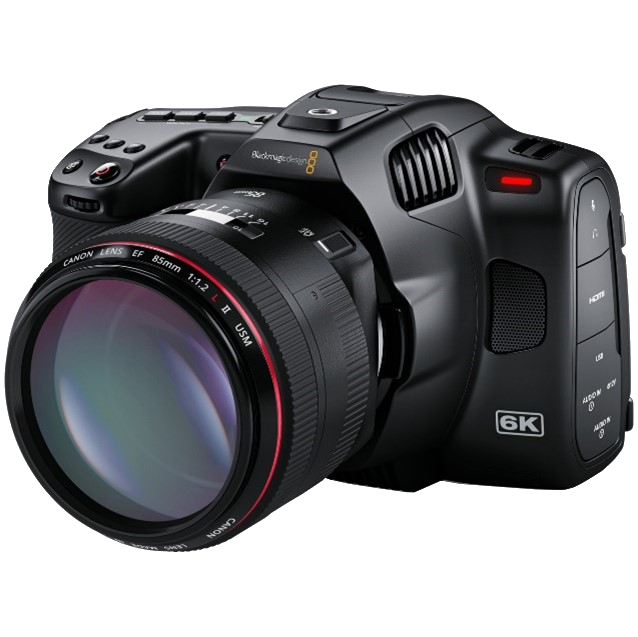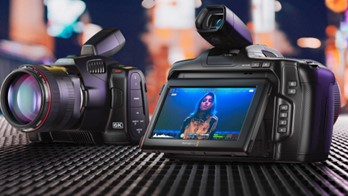 The Blackmagic Design Pocket Cinema Camera 6K Pro is a great addition to any photographer's camera equipment & gear bag for a mid-price cost of about $2,600.  The camera has great professional features such as high dynamic range, great low light performance, and Blackmagic cinema camera produces RAW Hollywood style, looks, and ensures your colors are precise every time. The Pocket Cinema Camera 6K Pro is well-suited for producing films, TV programming content, documentaries, YouTube content, and so much more.
Panasonic Lumix S1H 4/6K Cinema Camera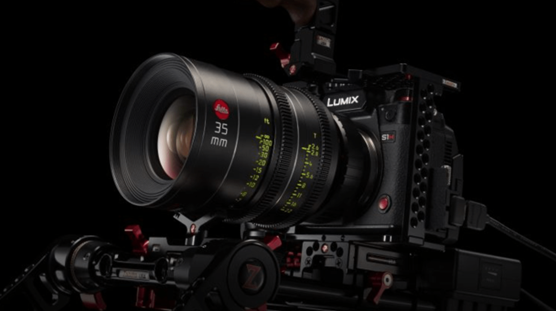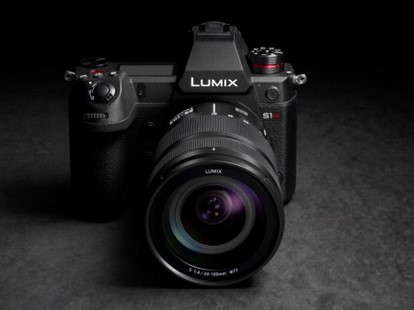 The Panasonic Lumix S1H 4/6K Cinema Camera is a perfect addition to anyone's camera gear bag.  Featuring V-LOG / V-Gamut the S1H provides 14+ stops of dynamic range, 3:2 6K/24p full-frame capture, 10-bit Cinema 4K/4K 60p/50p recording and offers unlimited recording times.
The LUMIX S1H offers a full-frame mirrorless camera package that finally helps you deliver the cinematic videos you've been dreaming of however, it will set you back over $3,600 or more depending on all the accessories added.